WiN Book Club - The Storm We Made
Kick off the New Year by joining Women in NAAAP's Book Club! Spotlighting Asian-American women in literature - we celebrate narratives and authors that cover cultural identity, heritage, adversity, and perseverance. We will meet once a quarter to discuss our thoughts, feelings, and personal experiences as it relates to the book!

WiN is excited to announce the first book of the year is "The Storm We Made" by Vanessa Chan. Vanessa Chan's debut novel is a spellbinding, sweeping narrative about a Malayan mother who becomes an unlikely spy for the invading Japanese forces during WWII—and the shocking consequences that rain upon her community and family.
Come join us for an engaging conversation- the first five registrants will get a copy of the book directly from the publisher!

Book Club is a great way to network and meet others with common interests. Whether you're a casual reader or avid reader, all are welcome!
Learn about all our programs: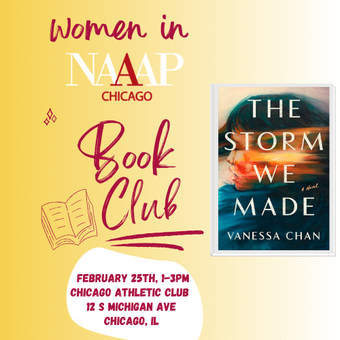 Chicago Athletic Club - 12 S Michigan Ave, Chicago, IL 60603, USA